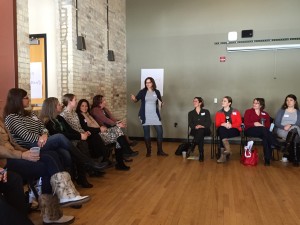 INTERNSHIPS:
---
Social Marketing Internship
Location: Madison, WI
Duration: 6 months
Pay: None
Time: Minimum of 10 hours per week
Submit: Resume and introduction letter
Project Kinect is offering an internship to a person with a great interest in better understanding how social media and community work together. The candidate must have an interest in positive social change and social good. That is the culture of our Madison based startup. Wanting to answer these questions is key: How can a community be more affectively mobilized through social media? How can communities not geographically close be connected to overcome similar obstacles? How can a well-written social media plan best engage communities and be a tool for future community development?  
A good candidate should have a general understanding of social media and how it is continuously evolving. Be able to speak fluidly about two or three social media platforms and have an idea of what is becoming more popular. Additionally, an ideal candidate should know a little about branding and identify what they find to be good social media campaigns.
Qualifications include, but are not restricted to:
– Excellent writing skills
– Interest and understanding of social media
– Able to identify needs of stakeholders in different communities
– Minimum of 2 years post-high school education (education has many definitions)
– Customer service experience
– Feels they get and understand people
Some position expectations:
– Commit minimum of 10 hours per week
– Able to make decisions and take personal agency. Celebrate victories and grow through   opportunities.
– Communicate effectively with progress and obstacles
– Document work done and share best practices
– Meet deadlines
– Must have computer
– Organized
– Write effective social media posts
– Brings imagination to job
Perks of this internship:
We realize we can't pay you, but there are some perks to this.
– Develop skills and possibly become an expert in social media plans
– Eligible to receive author credits on published work
– Become a skilled networker
– Work with a startup from the ground up
– Attend different local conferences and workshops
– Have fun with people who really love what they do!
***If interested, please submit your resume and introduction letter to info@projectkinect.com. The introduction letter should be a short letter explaining who you are, what you would bring to internship, and what your spirit animal is and why? Deadline is May 15th, 2017.
The Project Kinect team and network looks forward to meeting you!
OPEN POSITIONS:
---
There are currently no open positions with Project Kinect.
BECOME A CONTRIBUTOR:
---
Project Kinect is an online hub to share, endorse, and connect positive social change. That can only be done by the participation of people working out in the field. Here is what we are looking for from our contributors:
-Minimum of 250 words. Anything over 1000 words will be discussed after submission.
-The subject must fall under a category. (Tools We Love, Project We Love, Organizations We Love, etc.)
-If possible, please identify tools and best practices the subject of the article is using to accomplish positive social change.
-Please include all links and an image if possible.
-Be fun, use your language and post the article when it is published.
If you have something to share or want to contribute, email us at info@projectkinect.com and join in. Put 'I want to contribute' in the subject line.