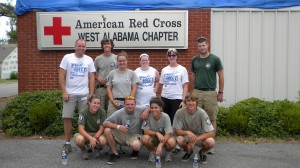 When one my closest friends graduated college, she knew one thing for fact; that she wanted to give back to the community through service.  Her choice of vehicle for this endeavor was the AmeriCorps. Friday we got the chance to team up with one of the AmeriCorps teams here in Tuscaloosa.
Our assignment was to help the American Red Cross break down the last of the shelters from when the tornadoes came through.  This is a great thing because now we know that all of the people who have been displaced are now in a residence but unfortunately, it also meant that the volunteers from the Red Cross would be going home.  They are heading out when there is still so much work to do.  Thankfully FEMA and the AmeriCorps are still in town.
I am told that there are currently about ten teams of eight in Tuscaloosa at the moment:  Each of them doing something equally important to help out the community.   For those of you that are not familiar with AmeriCorps, here is a bit of the basics.  AmeriCorps is for adults 18-24 and it works well for people who are taking a break from school or have recently finished college.  In addition to gaining the satisfaction of helping others, full time AmeriCorps members receive tuition and student loan help.  Every year AmeriCorps offers over 75,000 opportunities to help out in different communities in the country so if you have the least bit of interest, then check out the AmeriCorps website. 
These additional pictures are of the American Red Cross center that was hit by the storm.  After we loaded the truck with all of the cots and bedding from the shelter, we then went to unload the truck to this office building that was still standing after a brutal hit from the April storms.