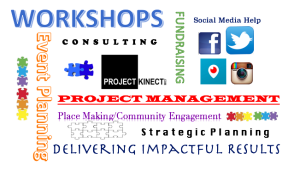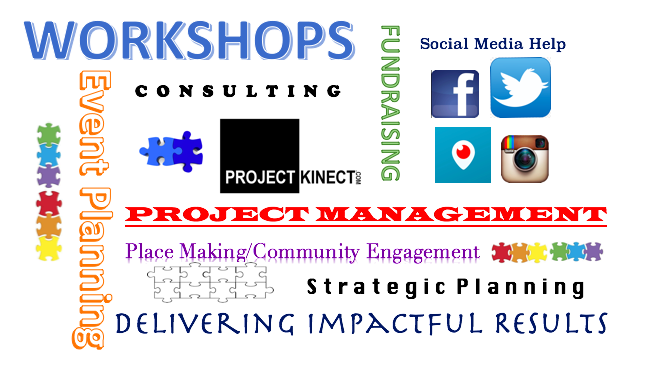 Project Kinect Services
Project Kinect offers a wide range of services to assist people and organizations to accomplish their positive social change goals. Some services may require an initial consultation fee that will be credited if additional services are contracted.
If you would like more information or would like an estimate, please email info@projectkinect.com.
---
Project Management & Sponsorship
Is there a project that has been on the "to do" list that has not been done? Whether it is frustration or just not knowing what direction to take, Project Kinect can be contracted to get your project started, help identify funding for it, or the entire logistical process.
Event Planning & Fundraising 
Sometimes you just need help with an event.  What happens if that person not only knows events, but also knows what it is to create an event on a budget?  Project Kinect can work with your organization to create great events that won't use the annual budget. Similar to event planning, sometimes organizations need assistance on a personal fundraiser, or an event to fundraise for an outside entity there is compassion for. Fundraisers are especially of interest to us because we know there is no sense in spending a ton on something you don't make a ton.
Project Kinect has a number of services that can be contracted and bundled together. Project Kinect can tackle obstacles organizations need assistance with. Often solutions to these obstacles are resolved by taking on one task at a time. Project Kinect can work as a contractor and accomplish multiple tasks if needed with bundled services. Some services include:
Grant writing
Often nonprofits and other institutions just need to hire a person to write the grant.  We can do that for you. After a meeting to learn what the grant is and how it assists your goals, we can set the terms for writing the grant.
Asset mapping
In the operations of an organization, sometimes mapping needs to be drawn. It maybe strategy, or cost of goods, or how one piece of the puzzle functions; for whatever that is, we can map it out, lay out the origins of different tools and assets, and define efficient ways to continue or improve operations.
Media and Social Media Plans
Project Kinect understands how media and social media must be aligned.  We can create a plan for you and your organization to ensure your endeavors are being strongly represented on all fronts. We can create the plan, get first steps moving so your participants and staff are trained, and if need be, can perform an evaluation during and when the plan is completed.
Program evaluation
Many times organizations go years without evaluating parts or an entire set of endeavors.  Evaluation gets discussed in meetings, but nothing ever gets done.  You can hire Project Kinect to conduct evaluations.  A full process report will be provided at the end with recommendations to any obstacles found along the way.
Team building/engagement assistance
Project Kinect can help build stronger teams.  In these workshops and evaluations, we will uncover strengths and opportunities that your team may have overlooked.  The outcome of these programs is to leave your team confident and more committed to your mission and values.
Strategic planning
What next?  This question happens at every stage of development.  We can assist and build a plan of action that brings your organization to the next level.
Volunteer Management
Sometimes having a full time staff member managing volunteers is not cost efficient.  Project Kinect can take on that job and be hired for the exact amount of time it takes to manage volunteers properly.  Why pay someone full time when the job only takes a quarter time?
Contract Services
Project Kinect can help you find a lawyer for contracts and other small legal issues that may come up. This service is often combined with other services to accomplish larger goals.
Organizations worked with: