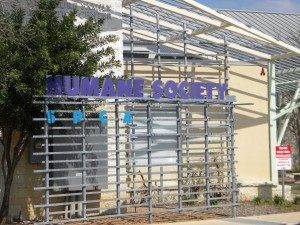 When in San Antonio, I was staying with my friends Bri and Mark.  On one of the days, Bri and I took their two sons to the San Antonio Humane Society to check things out and do something with the boys. While we were there, I talked to the staff and played with a bunch of the dogs to find out what the struggles are in different communities with the Humane Society.  In San Antonio, they tend to be doing ok and aren't running out of room.  Of course funding is short for them too but with a strong constant amount of volunteers, they find that they can stay successful while providing a great educational outreach into the community.
                When wanting to find a great way to volunteer in your community, an easy and enjoyable way is to check out your local Humane Society and find out the best ways to volunteer.  This is also great ways to volunteer as a family.  Some of the ways that you can volunteer are to be a pet photographer, Dog/puppy socialization and cat/kitten socialization.  You can help out at the front office with administrative work or be a part of the Education Outreach team.  Volunteering with the Humane Society is so important because that is how they do most of the work that needs to get done: through volunteers.
                To volunteer, there are few requirements. You must take an orientation class that has a fee.  This may vary in different cities.  You must be at least 12 years old (with a parent or guardian) or 16 with out.  That is basically it so if you have a love for animals, and really can't have one at the moment, this is a great way to get that need out.
                While I was there, I fell in love with the cutest Chow Chow puppy ever.  Unfortunately I can't take her with me because of the fact that I'm on the road, but if I wasn't, I would have snatched her up in a heartbeat.