Services we offer: 
---
Check out the consulting and project management options we  offer while seeing some of our previous clients.
Check out event planning and fundraising options we offer while seeing some of our previous clients.
Check out workshop options we offer while seeing some of our previous clients.
Here is a comprehensive list of services we can offer.
These are some of the projects we are currently working on.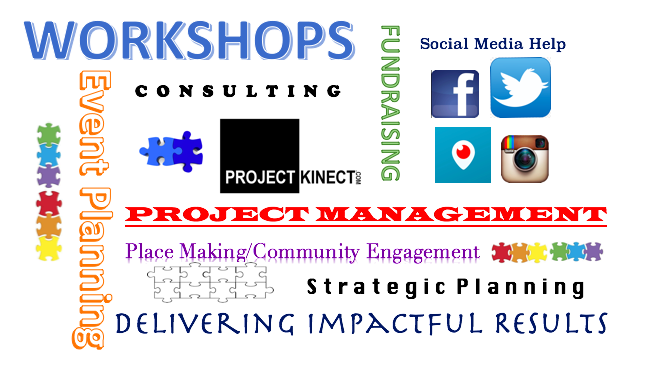 ---
Everything we do, whether it is a workshop, our annual Social Change Forum, or hosting a stakeholder meeting, we deliver the following VALUES, PHILOSOPHY, & CULTURE with exceptional customer service:
It is very important that we do what we say.  Often, we lose our integrity but must know that it is okay and this happens from time-to-time.  We must take responsibility for losing integrity and then go forward knowing we have a new opportunity to keep it. When collaborating, integrity creates trust and strong integrity leads to less energy being spent on unimportant issues and more energy being spent on the greater impact.
Once we establish what we are going to do, then it is important to hold ourselves accountable.  This assists in keeping integrity.  To hold ourselves accountable, we must outline consequences, find accountability buddies, and remind ourselves how our accountability adds to the goals of the collective.  When we do this, the collaboration becomes stronger and there are greater possibilities of higher impact and success of social change projects.
We must bring our authentic selves to the work.  We cannot have barriers and must know honestly where we stand and fit into the work.  If everyone is authentic in the work, less time is spent trying to get to the bass of how feelings, opinions, and deficits lead to the work still getting accomplished.
This work is not easy, and often, when we are keeping integrity and accountability AND bringing our authentic selves, we are vulnerable.  The work we do leads to all parties being vulnerable at some point in the process. If we acknowledge our vulnerability at the beginning, we can get to outcomes quicker.  Real positive social change requires vulnerability and places us in an uncomfortable space. All these values build to create the space for real impact.
Finally, we must be creative. Previous system structures do not always work so this process requires innovation and creation. With all stakeholders embodying integrity, accountability, authenticity, and vulnerability, then we as a collective of any work being done can use our creativity to accomplish our social change goals in any capacity they are.