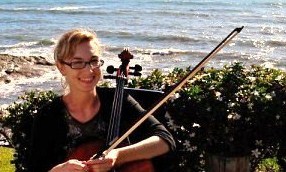 I was in San Diego this weekend and got a moment to meet up with my friend Molly.  Molly works for the San Diego Youth Symphony and conservatory(SDYS).  Right now SDYS biggest focus is on creating the mold for a program to get instruments into the hands of children.  It is a phenomenal program that has had a lot of success in other countries such as Venezuela where Gustavo Dudamel is from.  He is an excellent example of what can be produced from such programs. 
Gustavo Dudamel grew up in Venezuela where he apart of the program El Sistema,which influences hundreds of thousands of children each year.  El Sistema targets underserved communities and focuses on putting musical instruments in the hand of the children from those communities.  This last year, Gustavo Dudamel took over as the music director of the Los Angeles Philharmonic.  He could also be seen last summer conducting last summer at the Hollywood Bowl.  It was an extremeley passionate concert  to anyone who got the chance to make it.
Now, here in the United States, many cities are adopting such programs and one of the most successful is SDYS.  Molly loves her job at SDYS. She goes to work each day feeling that she is able to give back to the community while still working in the arts community. She is a cellist, so being in the world of music is extremely important to her.  The entire staff at SDYS must being doing something correct because they've been most recently featured in The New York Times and The San Diego Tribune. 
This isn't necessarily about The San Diego Youth Symphony and Conservatory, it's about these programs that are through out our entire country.  Reach out, find out what you can do with that trumpet you haven't played in years or that violin that you just haven't bothered to get re-strung.  Those instruments have amazing new homes that could foster the next generation of musicians.  If not donating  an instrument, then definitely go be an audience member of a youth music concert.  Supporting youth music programs can really just be going, listening, and applauding when it is over.   We never know what that will do for one of the little people who are performing up on stage in front of you.  We forget how essential music is to us, especially in the early years of our lives.