Being that I was in Los Angeles this weekend, I wanted to spotlight a few things from this wonderous city that I call home; Well one of my homes.  While I have been getting ready for this trip back to Los Angeles, I had a ton to get done and that included of co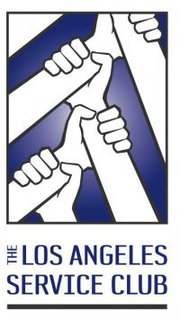 urse social media networking.  Despite how I try to ignore the friend suggestions that are offered on facebook, I checked out one of them because he had created an organization that assists in getting volunteers for different events and programs. 
The Los Angeles Service Club Created by Harrison Bloom,the Los Angeles Service Club is designed to bring together like-minded people dedicated to helping others by raising money and awareness to those in need for the Greater Los Angeles area.  This is a great way to get out into the community, assist, meet some great volunteers and not have to do the legwork  that it takes sometimes to research a good volunteer opportunity. 
Sofar Sounds I got picked up from the airport by my friend Michelle and one of the first things that she wanted to share with me was this living room concert series that she went to.  Apparently, a group from England were sick of playing for groups that would text, talk to each other and talk on the phone during their concerts. The result is that they decided to tour and start playing for smaller crowds in more intimate settings.  I personally feel that this is the best way to get people together that just want to enjoy the music.  Don't get me wrong, a live concert with thousands of people is amazing, but there is something to be said for just pure enjoyment of the music;  AND, it's BYOB
We Love Long Beach My friend Christine came up from Long Beach on Saturday and was so excited that she got to volunteer with this organization.  The Mission Statement is "To know and serve the people, the neighborhoods and the City of Long Beach"  I personally think that it is an amazing endeavor to really get the people of Long Beach feeling more like a community through breakfast.  Who doesn't love breakfast?   Once a month the people of We Love Long Beach raise from donations, all of the food for breakfast and then invite the entire community out for breakfast.  While they're there, they can help make breakfast, get involved with community events, or just work on getting to know each other which of course helps to build an event stronger city.  I really think that this is a project that is easily adaptable into other communities and doesn't take as much to organize as other larger events might be.  Seriously, let's have breakfast!