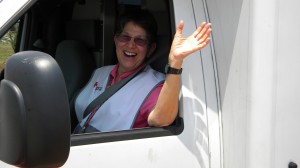 This is Marlene.  She is one of the American Red Cross Volunteers that have been here for the majority of the time since the storms on April twenty seventh.  As we were cleaning up lots on Thursday, she was going around from worksite to worksite encouraging volunteers to take breaks and get water in them.   When she came by where we were working, she scared Alyssa to death with her megaphone.
On Friday, we ran back into her when we went to help an Americorps team take down and clean up a shelter that is originally built as a community center.  In between being drilled with questions by Alyssa about the Red Cross, and her drilling Alyssa on questions about when will she meet her son, Marlene invited us to dinner with her team of volunteers.  This would be their last dinner together before they all went back to their respective homes.  Of course Alyssa and I went to sit among all this knowledge and insight over the last month and a half.
This group of volunteers was from all over.  Marlene is from Michigan, and she definitely brought the Midwest to this group.  There was also a woman from Wisconsin and a couple people from Ohio.  One of them, Sandy, has been volunteering for eleven years.  She told us about her first Disaster Relief (DR) assignment and that was September eleventh.  She was sent to ground zero that following January and talked about how still, four months later, the tension and need was so great for everyone there.  She felt then, helping so many people in need that she truly had a place volunteering at the American Red Cross.
Next to her was Jason who was from Kentucky.  This was his first DR and he is getting the instructions of where he is going next this morning.  He can't wait.  From what Alyssa and I gathered sitting there with him, listening to him talk about what had happened in Tuscaloosa, he's ready for the next assignment.
Next to me was Greg who handed us our lunches that day.  He is from Alabama and like Jason, this was his first DR too.  He was in the kitchen for the duration of his assignment in Tuscaloosa but is vocal that his next assignment will be driving the assistance van with Marlene.
Keep in mind that the age ranges of these volunteers are all over the place.  There were a few that were in their twenties and thirties and then is just went up from there: Anyone can be a volunteer.  It was a remarkable moment to spend with these individuals and see the bonds that were made through this incredible disaster and to know how each of them has helped to make things a little brighter in Tuscaloosa.  If you are interested in becoming a volunteer with American Red Cross, then check out your local chapter and they can get you started with training classes.