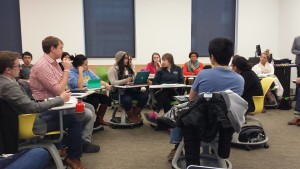 Workshops & Meetings:
We can create and facilitate workshops, meetings, and stakeholder events specifically for your company or organization.  Let us know what your objectives are, how you would like to engage your cohort, and we can create impactful workshops that gain buy-in, align groups, and crowdsource ideas.
Below are example workshops we have created for past clients. These can be transformed for your organizational needs, or we can create something new. If you would like more information or to create a workshop for your organization, please email workshops@projectkinect.com.
Social Media Tactics and Creating a Social Media Plan
Sustainable Business Models for Nonprofits
Bridging Multigenerational Gaps in the Workplace
Currently we are holding the following public workshops:
---
We do not currently have any public workshops. Please email us at workshops@projectkinect.com if you would like to hire us directly to facilitate a workshop or meeting with your organization or company.