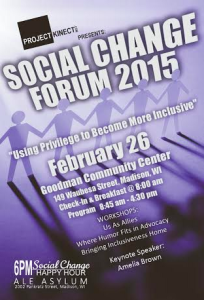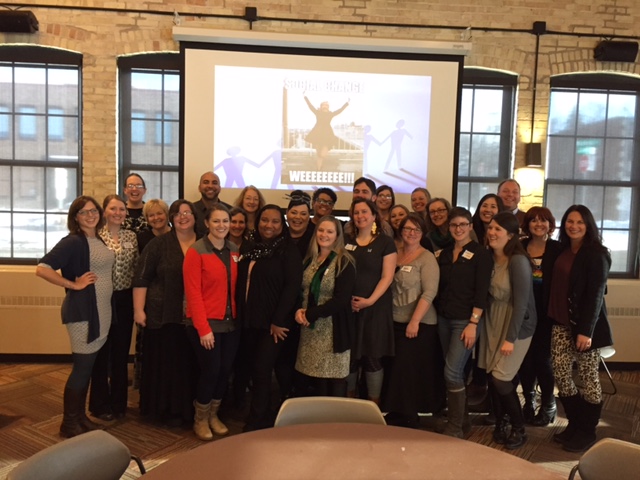 Below is the information from this year's Social Change Forum. It was amazing! 
We will announce the focus dates for the 2016 Social Change Forum in August.
2015 Social Change Forum:
How do we use our privilege to empower others and create greater inclusiveness in our communities and work place? The conversation around privilege and equality is growing in America. Here in Madison, we have many initiatives to generate greater inclusiveness, but time and time again, it is only stakeholders with privilege at the table. This year, the Social Change Forum is to help us begin a necessary ongoing conversation around privilege and inclusivity. This one day event will bring together interested parties in Madison to openly discuss and articulate how we can empower people citywide, thus creating the most impactful community possible. Both organizers and participants will leave energized, connected, and knowledgeable with action items to continue the conversation after the forum.
This first forum will only be one day long. The intention is to create a meaningful first forum with energy and excitement to build from in future years. Having the forum for only one day will also keep the cost down. Attendees will pay a fee of $25, which will include coffee and rolls, a catered lunch, snack, and all the materials needed for the forum. The forum is opening up an important conversation that should not cost a lot to have. By the end of the day, each participant should feel confident with tools and knowledge to create a more inclusive environment in their daily lives.
The day will begin with coffee and conversation, have an opening session, three workshops that will highlight tools here in Madison we can utilize, a lunch provided by a local social change maker, closing conversation, and a social change happy hour in the evening that will invite more stakeholders to the conversation. Each participant will be involved in each workshop, which will generate more thoughts, ideas, and results.
The Social Change Forum will be open to the public. This being the inaugural year, there will only be 100 seats available. The hope is that participants represent diverse backgrounds and share similar goals of gaining greater inclusive practices. Targeted groups invited will be nonprofit organizations, educational institutes, community based for profit organizations, community organizers, and both formal and informal community leaders.
Intended Outcomes
The first intended outcome is to generate a conversation about privilege. There never seems to be an appropriate time to discuss this but in order for positive social change to be accomplished, we must acknowledge it. This forum will create tools and discussion points for attendees to feel comfortable discussing privilege and disadvantages created by it.
A second intended outcome is to strengthen relationships between stakeholders who are interested in having this dialogue. We must empower those who are interested in order to reach those who are resistant. Strengthening these relationships will also create a support network for those who need assistance when dealing with defiance and obstacles in having these conversations.
A third, but not final outcome, will be to create actions items that would hold participants accountable and keep integrity from what is discussed at the forum. The forum will be a lot of conversation and great ideas. Often, at similar events, ideas die off the moment people leave the venue. This forum will give attendees specific steps to take once they have returned to their lives. Communication chains will also be created so sharing at later dates can happen to discuss success and identify opportunities.
Speakers
Amelia Brown- Keynote Speaker Amelia Brown is a consultant with more than 20 years of experience in advocating and activating social change spanning 30 countries and four continents.  She earned an MA from the University of Minnesota in Arts and Emergency Management.  She is the founder of Emergency Arts, a central resource and network for people working in art, emergency response and community development.
 Workshops
Us As Allies: This workshop will first look at privilege in our lives and how it either enhances, or hurts out lives. From those discussions, participants will evaluate and discuss how to become a better ally. This workshop will be facilitated by Beth Wright, one of the Directors of Academic Engagement from Peacework International.
Where Humors Fits in Advocacy: Often jokes are made that are funny but inappropriate. Sometimes humor is needed to lighten a mood and assist with conflict mediation. This workshop creates a space for participants to work through humor in these delicate situations. This workshop will be facilitated by Lisa Loniello from Next Generation Consulting and the founder of Light of Love Consciousness, Dina Martinez.
Bringing Inclusiveness Home: The conversations had at the forum are just a beginning. This workshop will allow participants to work on one specific opportunity to create better inclusiveness in their lives. The workshop is also created to empower participants to have the conversation with others. This workshop will be facilitated by Gregg Potter, Executive Director and Founder of Project Kinect.
Schedule
8:00-9:30: Morning Keynote speaker, coffee, pastries.
8:00-8:45: Registration and breakfast
8:45-8:50: Welcome
8:50-9:10: Defining Inclusivity
9:10-9:30: Opening Key Note
9:45-11:15: First Workshop
11:30-1:00 Second Workshop
1:00-1:45 Lunch (provided by Slide Food Cart and Catering)
1:45-3:15: Third Workshop
3:25 – 4:00: Large group facilitation on creating action items and accountability
4:00-4:30pm Closing words and 'Call to Action' with action steps for moving forward.
6-9pm: Social Change Happy Hour at Ale Asylum with further discussions.
Sponsorship
If your organization would like to be a sponsor for the 2016 Social Change Forum, please email info@projectkinect.com.