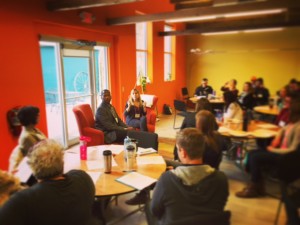 The word Kinect, to us, means connecting kinetic energy.  One way we do that is by producing our annual Social Change Forum. Project Kinect's Social Change Forum was created for three specific reasons. The first was to utilize everyone's definition of Social Change, put them together, and reveal how everyone of us is an agent of change. The second reason was to dedicate time with an eclectic group of change agents and focus on one building block of social change.  We choose a building block that is abstract and subjective, yet when we focus on it together, we find tangible ways to be better agents of change. 
The final reason for creating the Social Change Forum was to utilize one focus to bridge communities.  Something magical happens when we use our skills, talents, and experience to work together on common themes; we become connected and our network expands making real change possible.  The Social Change Forum isn't promising world peace; it's just encouraging greater community by strengthening ourselves while we create a better understanding of who we can lean on.
We welcome and invite anyone to the Social Change Forum. Whether you are a government official, work at a nonprofit, lead a corporation, are a teacher, or a freshman in college, we encourage you to join us for this annual impactful and soul filling event. If the pricing is not in your budget, please contact us and WE WILL WORK SOMETHING OUT! Email info@projectkinect.com and ask about scholarship options.
The Social Change Forum this year will be on Thursday March 2nd, 2017. Our theme is Better than Good: Being good is just not good enough anymore. We are still in the planning stage, but we already have an incredible line-up. Speakers include: Sara Alvarado from Step Up: Equity Matters, Calandra Davis from Women and Children First, Jessica Boyd from the Community Venture Foundation. Facilitators leading exciting and challenging workshops include: Nicki Nigl from EmpowHERment and mental health professional and spiritual guru, Shannel Trudeau-Yancey.
We are growing this year by adding more seats into the forum and adding a presentation/reception/fundraiser on the evening of March 1st at Synergy (5201 Old Middleton Rd). The event will look at how we can be better advocates and change agents on social media. The event will serve Off the Block Pizza and support Mentoring Positives.
Check out our 2016 and 2015 Social Change Forums!