On Saturday, as I was walking back to my Grandma's after a long day of working on different projects at Starbucks, I got a surprise text from my friend Karen.  To the wonder of Facebook, I had let her know that I was in the area because I would love to see her.  Karen has an extremely free spirit, she had just recently graduated college and took a life changing trip to Costa Rica and I wanted to find out about what had happened.  This trip had given her such an outlook that she now wants to live for an extended time in Costa Rica.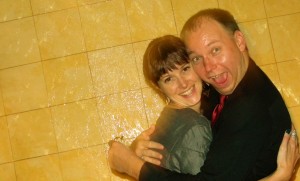 What amazed her about the country was how they spoke of the land. To them, the land is the most important thing and it needs to be cared for as a family member would.  She feels that she can learn how they do things and with that form of sustainability, one day work it into her life here in Wisconsin. 
She also admires how in Costa Rica, there are more school teachers than police officers.  There is no need for them.  Each citizen of Costa Rica has a social obligation to make sure everyone succeeds.  Yes, their definition of success is extremely different than ours, but it is success.  How is it that they are able to continue living in this way while going forward into the modern world without its modern problems?  Karen wants to find these things out.  Thank you Karen for everything you do for all of us and bringing what you do into my life.   Thank you also for the ultimate reminder that we can't sweat the small stuff; It is a waste of energy.