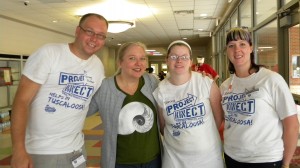 Our next assignment was to drive over to Central High School.  We had no idea what we were headed for when we arrived in our dirty, hard worked cloths. We were surprised when we walked into a space that was designed for women who were affected by the tornadoes to receive brand new cloths that were donated by Alfred Dunner.  Vikki Grodner and her organization Meet Up for Change put together a space that allowed women to come in and pamper themselves for a moment with brand new clothing, a message, a makeover and childcare for this amount of time.  Each woman was accompanied with a personal shopper while they perused through the different pieces of clothing.  With a plethera of people from all over(the size signs coming from New Orleans) donating everything it took to make this event a success, it really was a remarkable time for these women who needed just a moment of no worries.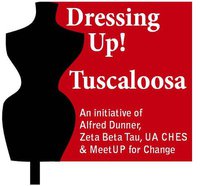 Before we left Wisconsin, the three of us were given about forty handmade quilts from the ladies at the Baraboo Methodist Church.  We felt that Dressing Up! Tuscaloosa was a great way to hand these beautiful quilts off to some loving arms. 
For more information about this wonderful event and also to possibly get ideas to do something similar in your community, check out this Facebook page.
Thank you again Vicki and everyone involved with this opportunity.  Project Kinect was so very happy to be involved.