Last week there was an article by the Arkansas Times that discussed my class and all of our summer projects.  It shared this map and just looking at it is pretty amazing.  These people have become my family and to just get a glimpse of what they will accomplish is extraordinary.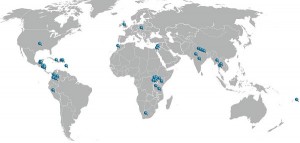 Here is the link to the entire article.  Arkansas Times
Here is a bit more on my project:
With the rise of refugees entering the city of Johannesburg from Zimbabwe over the last twelve years, Paballo ya Batho has had to spread already limited resources among a much larger group of homeless people.  The increased demand for resources did not allow for any strategic thought on how to handle this rise of need.  In 2006, with the help of local lawyers, Central Methodist Mission and Paballo ya Batho was able to stop the city of Johannesburg from moving poor people out of the inner city.  The success of stopping this city decision is fantastic but there still needs to be systemic change in order to better meet the needs of the homeless population while empowering them to reclaim their position in the community.  By conducting assets mapping, best practice work, and program capacity measurement, insight may help develop future project decisions thus meeting the needs of the homeless community.