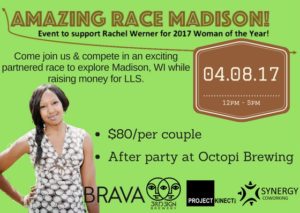 Want to spend an afternoon seeing Madison in a way you've never seen it before? Then you need to compete in this year's Amazing Race Madison!
Project Kinect, along with Brava Magazine, Octopi Brewery, Calliope Ice Cream, and Synergy Coworking are thrilled to present the 2017 Amazing Race Madison; A fundraiser to support Rachel Werner for LLS Woman of the Year.  This fundraiser is in the umbrella of all of the fundraisers to support the Leukemia & Lymphoma Society.
The event will begin at 12pm on April 8th, 2017 at the Synergy Coworking.  After finishing the first challenge, teams will be given an envelope with 20, $1 bills and disperse on their own created plan of how to get to four or more stops before ending up at Octopi Brewery in Waunakee.
The after party at Octopi Brewery (1131 Uniek Dr. Waunakee) will begin at 4pm. Teams must be to the party no later than 5pm. Final results and winners will be announced at 5:30.  The after party will be a beer float party with ice-cream provided by Calliope Ice Cream!  The party is open to the public with a suggested donation of $10.  Food will also be available for purchase.
---
So you want to compete?  Here is what you need to know…
Cost per team is $80.  Must register by Wednesday, April 5th, 2017
Winning prizes are TBD
Rules:
1) Each team is only allowed to use their car twice during the race.  This will take strategy ahead of time.
2) No personal cash, credit cards, or other forms of financial resources are allowed.
3) A life line may be used once during the race. This can be phone a friend, a planned ride, financial assistance from someone else, ect.  We are not limiting the life line but you must inform judges at the end that you used one.
4) Teams may buy out of one challenge for a price of $50.
---
Winning team will be based on the following criteria:
 1) Time it took to reach Octopi Brewing.
 2) Cash left in envelope.
 3) If you chose to add any challenges to your trip. Teams are only required to finish the Synergy Coworking challenge and four additional ones.  If a team chooses to add a fifth, then they will receive additional points.
All sites (excluding Octopi Brewing) include:
*Synergy Coworking: 5201 Old Middleton Rd., Madison
*One-One Thousand: 78 N. Bryan St., Madison
*Harbor Athletic Club: 2529 Allen Blvd, Middleton
*KAMPS: 435 N. Frances St., Madison
*Beach Park: Lakewood Blvd, Maple Bluff, Madison
Possibly more… Keep an eye out for more.
We can't wait for you to join us on this exciting fundraiser!!!!
We invite companies to sponsor a team to compete and we will list your logo below!
***Project Kinect is looking for volunteers for this event. If interested, please email heather@projectkinect.com
Thank you to our sponsors: