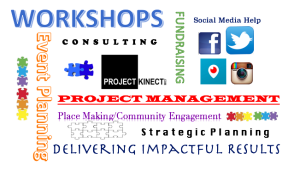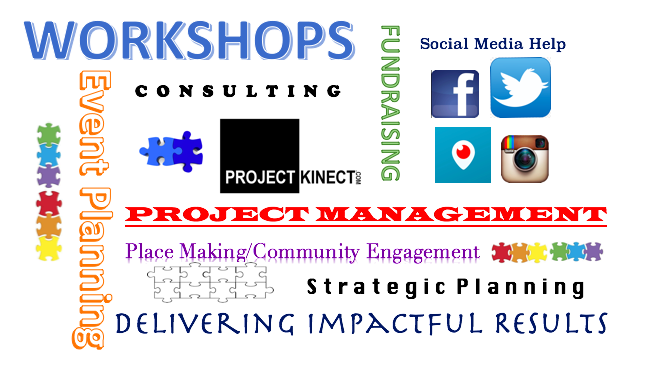 Mission
To connect positive social change agents and organizations with tools, resources, other doers, and the exposure necessary to have impactful and rewarding success in their social change endeavors.
Vision
Project Kinect is a social business that feels collaboration and connection is necessary for real positive social change to happen. However, from time to time, we do not see or know who to connect to. Project Kinect fits here. We are there to convene kinetic energy in the proper channels so that impactful results happen for organizational and individual social change projects. Our vision is that in this convening, we can set clients up for success in a way clear sustainability is identified and we can exit when a project's owner can successfully execute the work being done.
In addition to direct consulting and project management, we facilitate workshops that help give exposure to and strengthen tools for social change.  These workshops are offered individually to organizations and companies, publicly as seasonal workshop series, and in events such as our annual Social Change Forum.
The social Change Forum is intended to identify a few needs. The first is to utilize everyone's definition of Social Change, put them together, and reveal how everyone of us is an agent of change. The second reason is to dedicate time with an eclectic group of change agents and focus on one building block of social change. The final reason is to utilize that one focus and bridge communities.
Finally, we use our website to be one more way to get tools to change agents who need them.  Whether it is a leader we love, or a new best practice, we categorize online resources by things we love to make finding them easy. The website is also a forum for anyone who wants to share their social change endeavor journey and highlight reasons why they were successful.
By crossing the paths of as many people as possible, we can create the best resource net possible.  Welcome to Project Kinect.
Values, Philosophy, & Culture
Integrity
It is very important that we do what we say.  Often, we lose our integrity but must know that it is okay and this happens from time-to-time.  We must take responsibility for losing integrity and then go forward knowing we have a new opportunity to keep it. When collaborating, integrity creates trust and strong integrity leads to less energy being spent on unimportant issues and more energy being spent on the greater impact.
Accountability
Once we establish what we are going to do, then it is important to hold ourselves accountable.  This assists in keeping integrity.  To hold ourselves accountable, we must outline consequences, find accountability buddies, and remind ourselves how our accountability adds to the goals of the collective.  When we do this, the collaboration becomes stronger and there are greater possibilities of higher impact and success of social change projects.
Authenticity
We must bring our authentic selves to the work.  We cannot have barriers and must know honestly where we stand and fit into the work.  If everyone is authentic in the work, less time is spent trying to get to the bass of how feelings, opinions, and deficits lead to the work still getting accomplished.
Vulnerability
This work is not easy, and often, when we are keeping integrity and accountability AND bringing our authentic selves, we are vulnerable.  The work we do leads to all parties being vulnerable at some point in the process. If we acknowledge our vulnerability at the beginning, we can get to outcomes quicker.  Real positive social change requires vulnerability and places us in an uncomfortable space. All these values build to create the space for real impact.
Creativity
Finally, we must be creative. Previous system structures do not always work so this process requires innovation and creation. With all stakeholders embodying integrity, accountability, authenticity, and vulnerability, then we as a collective of any work being done can use our creativity to accomplish our social change goals in any capacity they are